Memorial Day weekend falls on May 26th- 28th this year. If you're in New York City and not sure how to spend the 3-day weekend, take a look at NYLC's list of the top 5 things to do. Hooray for holiday weekends!
1) Watch Top Gun on board the Intrepid
Friday, May 25th, 2018
Join NYLC for the start of Summer Movie series! To kick off the season, we are headed to the Intrepid Battleship for a screening of the American 80's-classic, Top Gun! Bring your picnic blankets, food, and folding chairs.
Admission to this event is FREE
, but is on a first come, first served basis. Be sure to sign up at a NYLC staff member to receive all the details!
2) Smorgasborg at South Street Seaport (from CBS New York)
Starting Memorial Day Weekend
"Starting Memorial Day weekend, you can nosh on delicacies from all over New York City, including fan favorites like Cemitas El Tigre, Lumpia Shack Snack Bar NYC, Landhaus, and more. Stop by on Sunday to enjoy an assortment of local food and specialty goods at the Fulton Stall Market. Brooklyn-based indie rock bands Flower Girl (May 28th), Heavy Birds (May 29th), and Katie Von Schleicher (May 30th) will also be performing live outside of the Fulton Market Building all weekend long from 3 p.m. – 5 p.m. The best part? You can eat your way through Smorgasburg at the Seaport all the way through the fall! Vendors are open daily from 11 a.m. – 8 p.m. See website for more details".
3) Family Fun Day on Governors Island
Sunday, May 27, 2018 11:00 am – 4:00 pm
From https://govisland.com/things-to-do/events/family-fun-day-festival
"Family Fun Day celebrates Governors Island's green spaces and its playful attitude. Held Memorial Day Weekend, this outdoor festival will feature live music, theatrical performances, storytelling, arts and crafts, educational workshops, ice cream, and a build-your-own playground. The event is free and open to the public".
4) Memorial Day Parade (from TimeOutNY)
Monday, May 28th, 2018
"Although there are multiple Memorial Day parades in New York (one in Queens, Staten Island, Bronx and two in Brooklyn), the Kings County Memorial Day Parade in Bay Ridge is the most iconic. In fact, it is one of the oldest traditions in Brooklyn now that it's in its 151st year. Catholic war veterans lead local service organizations in honor of fallen soldiers and their families at the parade, which is sponsored by the United Military Veterans of Kings County. Following the ceremony, there is a 21-gun salute by the U.S. Army at Fort Hamilton. The NYPD and FDNY also march, Brooklyn high-school bands perform, and antique fire trucks and autos are on display. This year, Lt. Gen. Robert L. Calsen Jr. acts as Grand Marshal."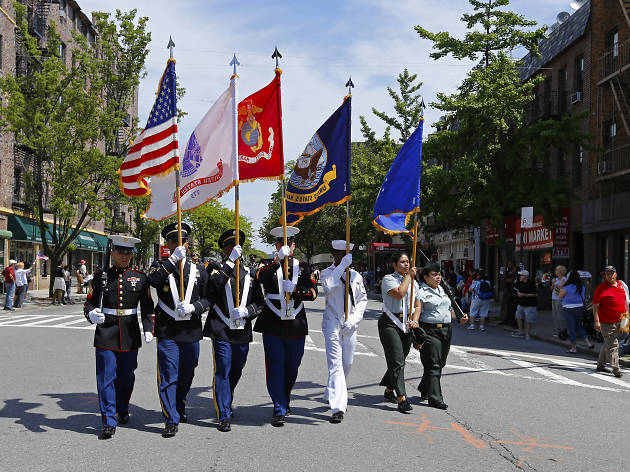 5) New York Philharmonic Memorial Day Concert at The Cathedral Church of St. John the Divine
Monday, May 28th, 2018 8PM
https://nyphil.org/concerts-tickets/1718/memorial-day-concert
"Now and then something happens that makes you feel proud of institutions and the music-loving public. One such event is the New York Philharmonic's Annual Free Memorial Day concert," raved The New York Times. Join us at The Cathedral Church of Saint John the Divine, where you'll be surrounded by the sounds of Vaughan Williams's Fantasia on a Theme by Thomas Tallis and Saint-Saëns's Organ Symphony.
Seating is on a first-come, first-served basis on the day of the performance; ticket distribution will begin at 6:00 PM The audio of the performance will be broadcast onto the adjacent Pulpit Green, weather permitting."